Jerusalem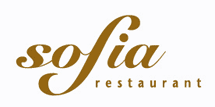 Sofia
- 3 Jabotinsky Inbal Hotel, Jerusalem 02-6756689
Tucked away in a quiet corner of the Jerusalem Inbal Hotel, sits a little pocket of elegance called Sofia. As befits this posh hotel, this spiffy eatery is high class all the way.

Sofia offers dairy Italian fare. Everything is done with a refined and stylish touch, from the cream-colored linens to the plush chairs. The service is impeccable and appropriate for an outstanding dining experience.

We were greeted at the restaurant with an aperitif followed by a small surprise starter; a baked phylo packet filled with feta cheese, floating on a sea of creamy tomato sauce. It was at that point, that we knew we were in for a special and wonderful dining experience.

Sofia is a restaurant for a special evening - an important (romantic) date, an anniversary or perhaps a key business meeting. You can count on Sofia to pamper you and your guest; its grace and sophistication will win you over.

Tel-Aviv/Jaffa
99Hayarkon
- Dan Hotel. 99 Hayarkon, Tel-Aviv/Jaffa 03-5202410
The Dan Hotel on Hayarkon Street is one of the top hotels in the country. Stylish and beautifully designed the hotel attracts celebrities and personalities from around the world. 

99 Hayarkon in the Dan Hotel is the lovely and elegant restaurant at the Dan Hotel. The restaurant is open not only to guests of the hotel but to other diners as well. That's us.

Classic, classy and exceptionally smart, 99 Hayarkon is a restaurant for the discerning diner. The elegant surroundings are complemented by outstanding gourmet cuisine. Each dish is a work of art, a celebration for the eye and the palate.

99 Hayarkon is a high end restaurant. Get ready for a heady experience.


Blackstone
- 5 Aholiav, Ramat Gan, Tel-Aviv/Jaffa 073-2753807
Blackstone is an elegant meat and fish restaurant in the spiffy Indigo boutique hotel. The restaurant offers a French-Mediterranean style menu with subtle Asian touches. This is high end dining with a great choice of vegetable dishes, meat and fish. The restaurant sports a full bar and a bar tender who knows his cocktails. Not to pass this up. Delicious desserts follow a glorious meal.